Students who wish to study abroad can do so by applying for an exchange with one of the BHSc's partner schools, enrolling for a term at the Bader Study Centre, or at a university found independently through an international letter of permission.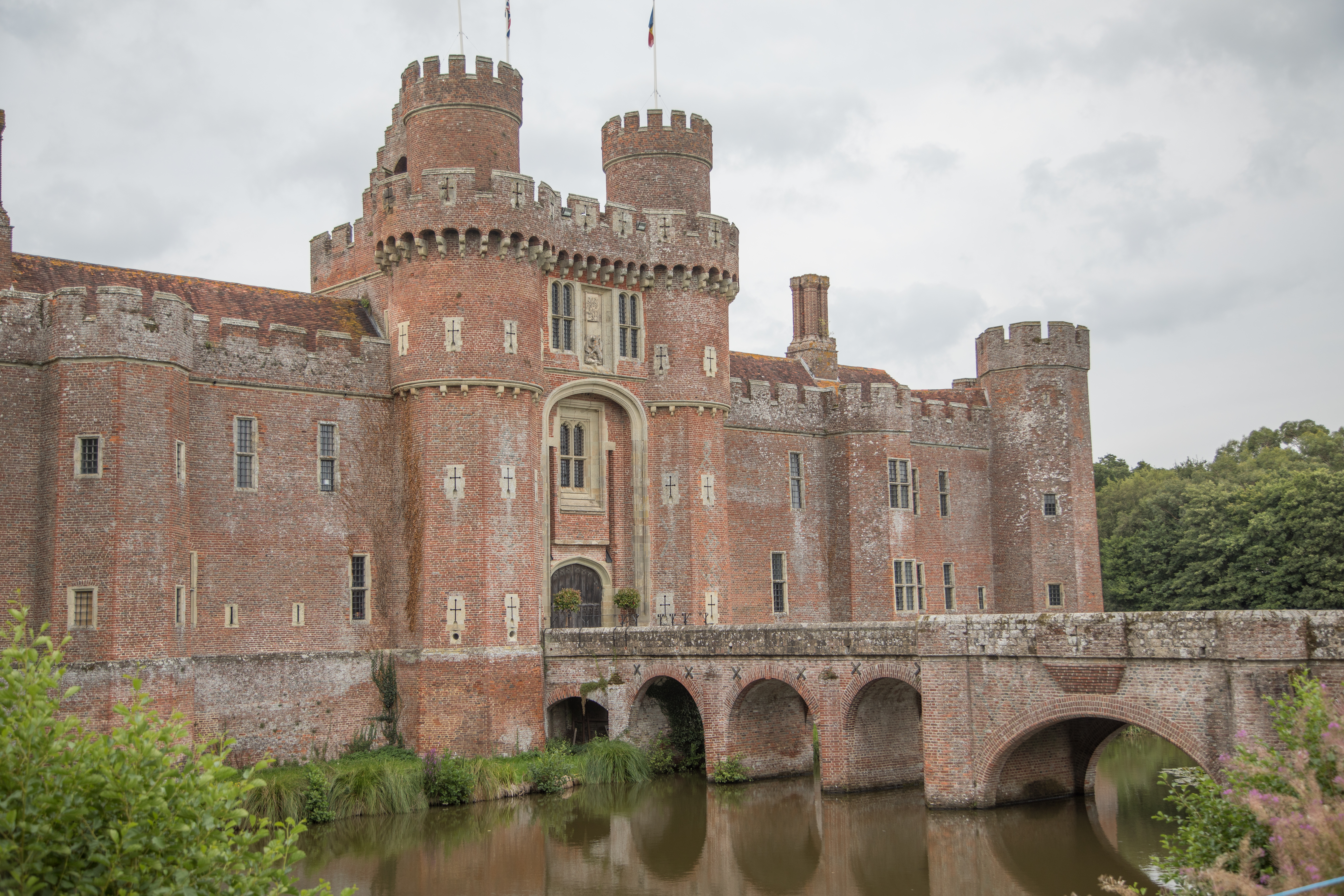 A new opportunity for upper-year Health Sciences students is being offered at Bader College. Health Sciences students have the chance to take their third-year Fall Term classes abroad at Queen's University's international campus at Herstmonceux Castle in the United Kingdom!
Combining core third-year Health Sciences courses with Bader College's characteristic small class sizes, one-to-one attention from instructors, and hands-on experiential learning, this opportunity adds global perspective to your studies.
But this is more than just a term abroad in Europe. In addition to lectures and guest speakers, students studying at Bader College have the added benefits of experiential learning opportunities that take them out into the local community and beyond to see their studies in action. You will engage in a community-based practicum with a local or international community health organization and connect with professionals and organizations from around the world!
Only 20 spots are available, so apply early and be among the first students to study upper-year Health Sciences at the Castle!
Earn 15.0 units (five courses) at Queen's University's international campus
Gain experience in a community-based health organization in another part of the world, 
Small class sizes offer you graduate-style contact with your instructors
Enhance your transcript for application to Graduate School or Medical School
Make global connections for future career opportunities
Become a global citizen.
Dates: September - December
Location: Bader College, Queen's University, Herstmonceux Castle, UK.
Apply By: April 30
REPD 372/3.0 Reproduction & Development
In REPD 372 students will obtain a general background on various aspects of human reproduction, ranging from male and female gamete development to pregnancy and birth. The course will serve as a gateway to more advanced courses in human reproduction and development. Students will apply concepts learned through modules to a simulated case study in which a human pregnancy will be followed from the pre-conception stages to parturition and the post-partum period. Evaluations will consist of quizzes, a written essay, a discussion forum and case study group assignments.
Prerequisite: Minimum 3rd year (level 3) standing, one of (ANAT 100/3.0; ANAT 101/3.0; [ANAT 215/3.0 and ANAT 216/3.0]; [ANAT 315/3.0 and ANAT 316/3.0]) and one of (PHGY 210/6.0; PHGY 214/6.0; [KNPE 125/2.0 and KNPE 225/3.0]; [PHGY 215/3.0 and PHGY 216/3.0]).
BCHM 370/3.0 Genetics & Genomics
BCHM 370, Genetics and Genomics, is an interdisciplinary course that will provide an introduction to the field of applied genomics for identifying genes underlying multifactorial traits, diseases and drug treatment outcomes. Basic principles of gene mapping studies will be covered in the context of recent advances in the field including statistical methods, high-throughput technologies and integrative analyses of biological datasets. The applications and implications of genome-wide studies will be discussed.
Prerequisite: Minimum 3rd year (Level 3) standing and one of (BCHM 218/3.0; BCHM270/3.0; BIOL 205/3.0)
IDIS 373/3.0 Health Ethics, Law, and Policy
IDIS 373, Health Ethics, Law, and Policy, is an introduction to ethical, legal and regulatory requirements for people working in the health professions. Many of the decisions healthcare workers make have an ethical or legal dimension.  In some of these situations, knowing or doing the right thing can be unclear or difficult. In this course, students will learn how to recognize aspects of health care that raise ethical and legal questions and will develop approaches to creatively and effectively answering these questions.  Over twelve weeks, we cover ethical and legal issues encountered in most types of health care organizations, including acute care hospitals, rehabilitation hospitals, outpatient facilities, dental clinics, nursing homes, home care organizations, and health care systems. The values, principles and laws we review are also applicable to diverse client and patient populations.
This course is designed to prepare students who are planning to apply to health professional programs and emphasizes learning-by-doing. In addition to introducing students to a wide range of ethical and legal issues in healthcare using a case-based approach, it also builds on the foundational skills in IDIS 173 (previously BMED 173).  Students will develop advanced abilities to charitably understand contentious issues from multiple angles, assemble evidence in order to develop a position, and to communicate complex ideas. Students will also become acquainted with some of the biases, mistakes and mental shortcuts people commonly take in their reasoning and how to avoid them.
Prerequisite: Minimum 3rd year (level 3) standing
COMMUNITY-BASED PRACTICUM
GLPH 493/3.0 Global Health Practice
This course will strengthen students' abilities to respond to a community's health needs through a practical service-learning position with an approved local or international community health organization. Students will apply a reflective approach to community engagement in global health and consider the relationship between global health practice and critical concepts from relevant fields, including international development, postcolonial theory, service learning, and public health.
Learning Outcomes
You will learn to identify the impact of your own social circumstances and the ways they effect your perspective on global health issues
Learn to become adaptive and considerate in your approach to global health practice through independent reflection and work with key figures in your placement
Develop your own "philosophy of practice" in global health, and learn to describe the values and approaches you'll use to identify, understand, and respond to a community's health needs
Learn how critical concepts of globalization, equity, and social and international development influence a community health organizations' work partner universities.
Choose One Elective (3.0 units)
You can also choose an additional 3.0 course from Bader College's robust Fall offerings to complement your degree plan and maximise your experience. Find the full list of fall course offerings on the Bader College website.
Queen's Students
Make sure you meet the basic prerequisites:

Minimum 2.6 GPA
Good academic standing
Level 3 standing (by the time the term starts)
Bachelor of Health Sciences degree plan

Please enquire via castle@queensu.ca should you have any questions.

Request to change campus
Receive campus confirmation from Undergraduate Admission
Register in class on SOLUS.
Non-Queen's Students
Make sure you meet the basic prerequisites for studying abroad at your home institution.
Apply online
Register online for your chosen program
Submit Letter of Permission
Accept your offer
Expand your global viewpoint with international exchange.

 
Current BHSc Exchange Partner Schools include: 
Nanyang Technical University (Singapore, Singapore)

 

University of Western Australia (Perth, Australia)

 

University of Otago (Dunedin, New Zealand)
Outgoing Exchange Students: Full-time BHSc students (including international and online students) can apply to study with one of our exchange partner universities for a term.   
Incoming International Students: If your institution has an exchange agreement with Queen's, please consult your home university study-abroad office for information about application procedures. 
Exchange applications for outgoing BHSc students for Fall 2023 and Winter 2024 are now closed. Please be sure to read the Frequently Asked Questions below. Application Deadline: January 22nd, 2023 @ 11:59 PM (ET)
Partner-School Course Equivalencies
UWA Course

Queen's Course

Notes

Health Research Design and Methods [PUBH3305]

HSCI 383: Advanced Research Methodologies

3rd year option

Equivalent

Plagues, Pox and Pandemics: the History of Death and Disease [PUBH2209]

Unspecified 200 level GLPH Transfer Credit

Not equivalent to any specific Queen's course, can use the unspecified 3.0 units as an elective (GLPH 2UNS)

Issues in Women's Reproductive Health [IMED2208]

Unspecified 300 level REPD Transfer Credit

Not equivalent to any specific Queen's course, can use the unspecified 3.0 units as an elective (REPD 3UNS)

Immunobiology and Immune Diseases [MICR3305]

MICR 360: Immunology

3rd year option

Equivalent

Fundamentals of Pathology and Laboratory Medicine [PATH2210]

Unspecified 200 level PATH Transfer Credit

Not equivalent to any specific Queen's course, can use the unspecified 3.0 units as an elective (PATH 2UNS)

Genomics [GENE3370]

BCHM 370: Genetics and Genomics

3rd year core

Equivalent

Medical Genetics [PATH3305]

Unspecified 300 level PATH Transfer Credit

Not equivalent to any specific Queen's course, can use the unspecified 3.0 units as an elective (PATH 3UNS)

Biological Anthropology: Genes and Society [ANHB3321]

Cells, Tissues and Development [ANHB3323]

Unspecified 300 level REPD Transfer Credit

Not equivalent to any specific Queen's course, can use the unspecified 3.0 units as an elective (REPD 3UNS)

Environmental and Human Health [ENVT2222]

Unspecified 200 level GLPH Transfer Credit

Not equivalent to any specific Queen's course, can use the unspecified 3.0 units as an elective (GLPH 2UNS)

Health and Illness in Human Populations [PUBH1101]

Unspecified 200 level GLPH Transfer Credit

Not equivalent to any specific Queen's course, can use the unspecified 3.0 units as an elective (GLPH 2UNS)

Disease Prevention and Control [PUBH2204]

Unspecified 200 level GLPH Transfer Credit

Not equivalent to any specific Queen's course, can use the unspecified 3.0 units as an elective (GLPH 2UNS)

Developmental Origins of Health and Disease [APHB5501]

REPD 473: Developmental Origins of Health and Disease

4th year core equivalent

Cells, Tissues & Development [ANHB3323]

BIOL 430: Molecular Genetics of Development

4th year elective equivalent

Anatomy and Cutaneous Science [PODI3113]

Unspecified 300 level ANAT Transfer Credit

Not equivalent to any specific Queen's course, can use the unspecified 3.0 units as an elective (ANAT 3UNS)

Human Structure and Development [ANHB2212]

Unspecified 200 level ANAT Transfer Credit

Not equivalent to any specific Queen's course, can use the unspecified 3.0 units as an elective (ANAT 2UNS)
| | | |
| --- | --- | --- |
| Potential Nanyang Technology University (NTU) Course Equivalent | Queen's University Equivalent | Assessed in: |
| | BIOL 300 level unspecified | 2022 |
| CS4042 ADVANCED RESEARCH METHODS; | More information required to assess | 2022 |
| BIOANALYTICAL TECHNIQUES CH4306 | BCHM 400 level unspecified | 2022 |
| | Not equivalent | 2022 |
| | Equivalent to CANC 380 | 2022 |
| | More information required to assess | |
| | 4th year unspecified | 2022 |
| | equivalent to DDHT 459 or PHAR 480 | 2022 |
| AGE06D NEURODIVERSITY & LEARNING EXPERIENCE | More information required to assess | |
| AGE08D DESIGNING LEARNING ENVIRONMENTS WITH THE INTERNET OF THINGS | More information required to assess | |
| | Equivalent to NSCI 323 | 2022 |
| | BCHM 200 level unspecified | 2022 |
| | 3rd year unspecified PATH | 2022 |
| | Not equivalent to GLPH 487 | 2022 |
| BS3109 FUNDAMENTALS OF IMMUNOLOGY | Equivalent to MICR 386 | 2022 |
| HY2025 MEDICAL ETHICS | Not equivalent to IDIS 373 or 483 | 2022 |
| | 3rd year unspecified BCHM | 2022 |
| | | |
| --- | --- | --- |
| Otago Course | Queen's University Equivalent | Notes |
| BITC301 Bioethics | IDIS 373 equivalent | Assessed 2023 |
| PATH301 Advanced Pathology | PATH 310 equivalent | Assessed 2023 |