John S. Allingham
B.Sc. (Hons.) in Biochemistry (1996) - The University of Western Ontario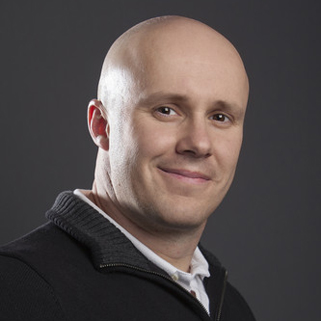 Position(s)
Associate Professor and Canada Research Chair in Structural Biology
Contact Info
---
Current Funding:
Canadian Institutes of Health Research
Natural Sciences and Engineering Research Council
Canada Research Chairs Program
Research Interests: 
• Structure-function relationships in kinesin motor proteins
• Roles of kinesins in mitotic spindle function and cell shape changes in human fungal pathogens and cancer cells
• Molecular recognition of protein surfaces and perturbation of protein function by natural toxic small molecules
• Protein engineering and drug design
A primary goal of the research in my lab is to understand the mechanisms of action of biomolecules, and, where possible, to rationally alter or re-purpose their functions in useful ways. To do this, we use X-ray crystallography, high-resolution microscopy, and a number of other biophysical tools to gain detailed descriptions of these molecules in solution and inside cells. Our most intensive areas of focus in recent years has been on: (1) kinesin motor proteins, which form a large superfamily of cytoskeletal motors that are essential for cellular cargo transport, cell division, and cell shape changes; and (2) on natural toxins that possess anti-fungal and anti-tumor properties. The activities these molecules possess have direct relevance for biomedicine. They also provide frameworks for understanding the fundamental underpinnings of biomolecule design.
Teaching Experience
Dr. Allingham is an Associate Professor in the Department of Biomedical and Molecular Sciences at Queen's University, and a Canada Research Chair in Structural Biology.  He received his Honours BSc (1997) and PhD (2002) from the University of Western Ontario, where his research focused on bacterial DNA transposition systems that promote the spread of antibiotic resistance.  He then completed postdoctoral training in protein X-ray crystallography in 2006 as a CIHR-postdoctoral fellow at the University of Wisconsin, and joined the former Department of Biochemistry at Queen's in 2007.  He has since developed a multidisciplinary research program that aims to understand the molecular structures and specific roles of force-generating proteins that define cell shape, and that drive cell movement, chromosome segregation and intracellular cargo transport. He also maintains a highly collaborative structural biology lab that has produced numerous high-impact and important publications in fundamental science and health-related research areas.
In addition to managing a highly active research group that includes two postdoctoral fellows, four graduate students, and two undergraduate trainees, he coordinates the introductory second year course in Molecular Biology (BCHM218). He also teaches or supervises students in the fourth year Protein Structure and Function course (BCHM410) and the Advanced Biochemistry Laboratory courses (BCHM421/422), respectively, and he participates regularly in graduate-level seminar courses, such as BCHM823 and BCHM860.
A significant portion of Dr. Allingham's time is dedicated to teaching and mentoring activities that fall outside of his designated responsibilities to the Life Sciences and Biochemistry Undergraduate Program.  This includes his involvement for the past four years as the faculty advisor for Queen's Genetically Engineered Machine Team (QGEM). The team comprises 8-12 undergraduate students from the Life Sciences, Biochemistry, Biology, Chemical Engineering and Computing departments, who work collaboratively with him to develop and execute a summer research project to engineer genes and/or microorganisms to solve real world problems.  He is also heavily involved in outreach activities, such as the 'Virtual Researcher On Call' program for the Partners in Research (PIR) charity.